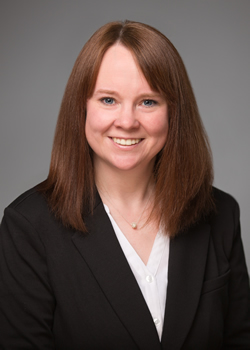 PORTLAND, Oregon — March 21, 2017 — Standard Insurance Company (The Standard) announced today that Stephanie Flora has been promoted to assistant vice president of Internal Auditing.
Flora joined The Standard in 2002 as an internal auditor and later moved to senior internal auditor responsible for leading complex audits of various business units to evaluate control structures and support management in strengthening governance practices. In 2013 she was promoted to director of Internal Auditing, responsible for assisting with development and execution of the annual audit plan, Sarbanes-Oxley 404 compliance testing processes and external audit assistance.
"Stephanie has taken on an increasingly responsible role over time and I am excited that she'll be leading the department going forward," said Debbie Ferguson, vice president of Internal Auditing at The Standard. "Her knowledge and expertise will serve the company well as she steps into this new role."
Flora earned her bachelor's degree in psychology at the University of Portland. She is a Certified Internal Auditor, Certified Management Accountant and Certified Fraud Examiner.
About The Standard
The Standard is a leading provider of financial products and services, including group and individual disability insurance, group life and accidental death and dismemberment insurance, group dental and vision insurance, absence management services, retirement plans products and services and individual annuities. For more information about The Standard, visit www.standard.com.
The Standard is the marketing name for StanCorp Financial Group, Inc., and its subsidiaries: Standard Insurance Company, The Standard Life Insurance Company of New York, Standard Retirement Services, Inc., StanCorp Mortgage Investors, Inc., StanCorp Investment Advisers, Inc., StanCorp Real Estate, LLC, and StanCorp Equities, Inc.
Contact
Bob Speltz, Senior Director, Public Affairs
971.321.3162