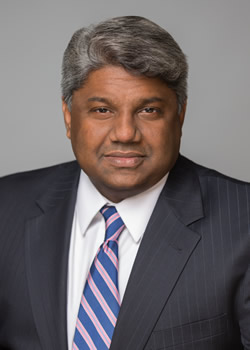 PORTLAND, Oregon — April 13, 2017 — Standard Insurance Company (The Standard) announced today that Laxman Prakash has been promoted to second vice president of Information Security.
Prakash joined The Standard in 2011 as director of Information Security and Business Continuity and focused on strengthening the company's information security organization. Prior to joining The Standard, Prakash was a senior portfolio manager for Wipro Technologies and a manager for KPMG, LLP, where he provided technical direction and oversaw delivery of security and business continuity services for clients.
"Laxman has implemented an ISO 27001-certified information security management system and strengthened our business continuity practices. His strong leadership and organizational skills have contributed significantly to the success of The Standard's IT organization," said David O'Brien, senior vice president of Information Technology at The Standard.
Prakash received his Bachelor of Engineering in electronics and telecommunications from the University of Madras in Chennai, Tamil Nadu, India. Prakash is a Certified Information Systems Security Professional.
About The Standard
The Standard is a leading provider of financial products and services, including group and individual disability insurance, group life and accidental death and dismemberment insurance, group dental and vision insurance, absence management services, retirement plans products and services and individual annuities. For more information about The Standard, visit www.standard.com.
The Standard is the marketing name for StanCorp Financial Group, Inc., and its subsidiaries: Standard Insurance Company, The Standard Life Insurance Company of New York, Standard Retirement Services, Inc., StanCorp Mortgage Investors, Inc., StanCorp Investment Advisers, Inc., StanCorp Real Estate, LLC, and StanCorp Equities, Inc.
Contact
Bob Speltz, Senior Director, Public Affairs
971.321.3162