The Standard Earns Top Marks in Human Rights Campaign Foundation's 2022 Corporate Equality Index
PORTLAND, Ore. — Standard Insurance Company (The Standard) announced that for the sixth consecutive year, it received a score of 100 on the Human Rights Campaign Foundation's 2022 Corporate Equality Index, the nation's foremost benchmarking survey and report measuring corporate policies and practices related to LGBTQ+ workplace equality.
"We are honored to be recognized again by the Human Rights Campaign as one of the country's top workplaces for LGBTQ equality," said Susan Bruechner, vice president of Human Resources at The Standard. "Fostering an environment that prioritizes people, integrity and outstanding customer service starts with ensuring that every employee — at all levels of our organization — feels they have the freedom to be fully who they are. We value employees for the unique life experiences and perspectives they contribute to our culture."
The results of the 2022 CEI highlight that not only are 1,271 U.S.-based companies promoting LGBTQ-friendly workplace policies in the U.S., but there are also 56% of CEI-rated companies with global operations helping to advance the cause of LGBTQ inclusion in workplaces abroad. The Standard's efforts in satisfying all of CEI's criteria earned a 100% ranking and the designation as one of the Best Places to Work for LGBTQ+ Equality.
The CEI rates employers providing these crucial protections to more than 20 million U.S. workers and an additional 18 million abroad.
The CEI rates companies on detailed criteria in four central pillars:
Non-discrimination policies across business entities
Equitable benefits for LGBTQ+ workers and their families
Supporting an inclusive culture
Corporate social responsibility
The Human Rights Campaign Foundation is the educational arm of America's largest civil rights organization working to achieve equality for lesbian, gay, bisexual, transgender and queer people. For more information on the 2022 Corporate Equality Index, or to download a free copy of the report, visit hrc.org/cei.
About The Standard
The Standard is a family of companies dedicated to helping customers achieve financial well-being and peace of mind. In business since 1906, we are a leading provider of financial protection products and services for employers and individuals. Our products include group and individual disability insurance, group life, dental and vision insurance, voluntary (employee-paid) benefits, absence management services, and retirement plans and annuities for employers and individuals. For more information about The Standard, visit standard.com or follow us on Facebook, Twitter or LinkedIn.
The Standard is the marketing name for StanCorp Financial Group, Inc., and its subsidiaries: Standard Insurance Company, The Standard Life Insurance Company of New York, Standard Retirement Services, Inc., StanCorp Mortgage Investors, LLC, StanCorp Investment Advisers, Inc., StanCorp Real Estate, LLC, and StanCorp Equities, Inc.
Contact
Bob Speltz, Senior Director, Community Relations
971.212.9549
Send a message
Media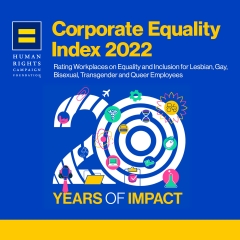 Corporate Equity Index 2022
Download image