Our culture of caring begins with our employees. They pave the way for us to affect communities around the country, lead our charitable giving and connect in ways that enrich each other's lives.
Employee Giving — By the Numbers
Our annual campaign is a companywide effort celebrating our culture of giving back. With employee-hosted picnics, games, bake sales and an online auction, our team raises millions of dollars. Those funds are double matched by The Standard and our parent organization Meiji Yasuda to create a major financial impact for the organizations we support.
2022 Campaign
$5.5 million
Employee donations and company matches
2,168
Nonprofit organizations and schools supported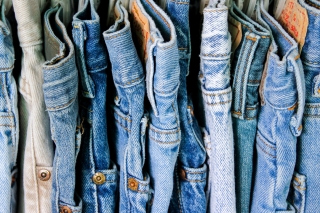 Casual and Committed
A desire to dress casually in the office began with a simple $100 donation for the opportunity to wear jeans and casual shoes to work every day. In a remote-working world, the Jeans Days program became the Denim Impact Fund — and it's still going strong. Employee donations are pooled, matched by The Standard and Meiji Yasuda, and support select nonprofit partners each year.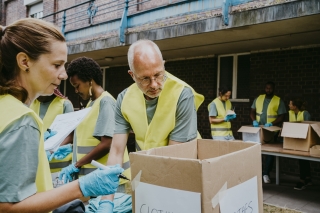 Make an Impact: Your Way, Our Time
Employees of The Standard receive paid time off, every year, to volunteer in their own communities. By donating tens of thousands of hours of support, employees can follow their own charitable efforts and tap into their passions and talents to support local neighborhood nonprofits.
Empowering People for a Better World
Volunteer Expo
Each September, The Standard hosts a Volunteer Expo in Portland. Oregon's largest expo connects employees of The Standard and members of the public with local volunteer opportunities that match their interests and expertise. Typically, more than 100 nonprofits participate. The event annually attracts thousands of attendees as well as employees of The Standard.
Days of Caring Events
Our Day of Caring volunteer events focus on working together to support local community partners.
Dollars for Doers
Since 1985, this program has awarded up to 20 employees a year with $1,000 to the organizations where they volunteer.
Congratulations to the 2022 Dollars for Doers award recipients:
Katie Banks, Playworks Pacific Northwest 
Lauren Chapman, Catholic Medical Foundation 
Darlene Gallinger-Long, Sherwood High School Athletic Club 
Cary Geist, Let 'Em Play Foundation 
Ellen Harrison, Hygiene4All 
Sophia Horsman, Boys and Girls Club of Harrison-Crawford Counties 
Katie Maase, Markham Elementary School PTA 
Frank Medeiros, Tigard Blast Fastpitch 
Holly Nelson, Friends to the Forlorn Pitbull Rescue Inc. 
Holly Schultz, Union High School Track Team 
Haley Sween, Operation Underground Railroad 
Kisha Turner, Oregon Donkey Sanctuary Northwest  
Jenny Vu, Make-a-Wish Oregon 
Ben Werner, REACH Community Development 
Jace Wheatley, The Human Rights Campaign 
Sumner Williams, The Portland Bridge Swim 
Steve Zeiden, Jewish Family Service
Nonprofit Board Training
All officers at The Standard commit to serving on at least one school, civic or nonprofit board of directors. Interested employees can also participate in board training to help prepare themselves for the unique challenges and opportunities of serving on a nonprofit board. Sometimes, business expertise is the most valuable donation a community partner can receive.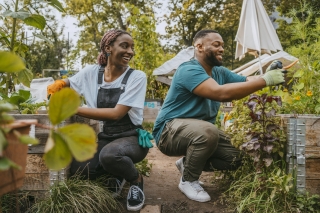 The Greg Ness Award
The Greg Ness Community Service Award is named for our former chairman, president and chief executive officer. Greg, who retired from The Standard in 2023, was a passionate supporter of our commitment to serving our communities. Each quarter we recognize a peer-nominated employee who exemplifies our company's community spirit. Winners receive a cash award for themselves and a donation to the nonprofit of their choice.
Employee Resource Groups
Independent, voluntary groups of employees meet and support one another by sharing interests, issues and common experiences. These employee resource groups are an open forum to help build our culture and our community one human connection at a time.
Black Employee Network
BEN supports the recruitment, retention and advancement for employees of The Standard who are members of the African/Black diaspora and supporters through networking, mentoring and professional and leadership development opportunities.
Celebrating Racial and Ethnic Diversity
CRED is a passionate group of leaders who focus on diversity and inclusion, while serving as a support system for employees and a force for good in the community.
Green Team
The Green Team promotes practices and actions focused on sustainability within our company, community and environment.
Money$mart
Money$mart helps employees achieve personal financial fitness with education, tools and alternative ways to contribute to their communities.
Parents Working Together
PWT is the virtual home of working parents, where they can collaborate, share resources, celebrate milestones and navigate challenges.
Partners in Mind
Partners in Mind offers employees information and resources to help improve mental health.
StandOUT
StandOUT leads awareness, opportunities, event participation and activities for our internal LGBTQ+ community and allies.
The Standard Employees Recognizing Veterans
SERV brings together military veterans within our ranks for networking, recruitment, professional development, outreach, education and engagement.
Women's Career Network
WCN offers dynamic opportunities for personal and professional growth through networking events, educational seminars and community volunteering.