Benefits education is key to driving participation and can lead to greater employee satisfaction.
Not all employees understand the value of the insurance benefits or retirement plans offered to them — let alone how to join. That's why The Standard provides engaging online education modules tailored to the employer's specific offerings.
View the sample modules and then ask your representative how The Standard can customize them for your group.
View Sample Education Modules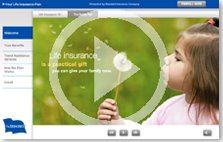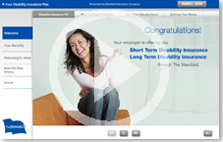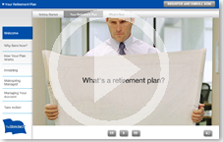 Think of education modules as virtual enrollment meetings that employees can access online anytime, anywhere.
Engaging
Each module presents plan benefits in an engaging, easy-to-understand format, including video animations, voiceover narration and calculator tools that motivate employees to enroll.
Customizable1
Modules are customized to include the specific features of the insurance policy or retirement plan and can also be branded with your logo or the employer's.
Convenient
There's no need to physically attend an enrollment meeting. Employees can access enrollment information online anytime from their desks or at home.
Self-Paced
Employees can re-watch or skip ahead to any topic. Typically, an entire module can be viewed in 15 minutes or less.
Connects To Enrollment Process
When employees are ready to enroll, they can simply click a button at any point during the presentation to go to the enrollment website or form.
Easy To Share
Employers receive a website address that they can share with employees via email or a link from their intranet sites.
Economical
Modules are available to The Standard's customers at no extra charge, making them an economical way to deliver enrollment information, especially to employees in multiple or remote locations.
1 Some contracts include unique features or provisions that are not supported by the modules. Please contact your representative at The Standard to determine whether a module can match your client's specific products and plan design.
Group Life Insurance
May include Accidental Death & Dismemberment insurance
May include Additional, Supplemental and Dependents Life options
Supports basic and voluntary products
Group Disability Insurance
May include Long Term and Short Term Disability
Supports voluntary, contributory and buy-up products
Retirement Plans
Supports defined contribution plans
Also supports automatic enrollment arrangements
Contact your representative at The Standard to learn more about the products and services that can be included in the enrollment modules
Contact Your Representative Today
Modules can be customized for current customers of The Standard upon request. Contact your representative at The Standard for more details and to request a module.
Please note that some contracts may include unique features that are not supported by the modules. Your representative can help determine whether the education module or another solution is best suited for your group's needs.