Keep Your Clients Smiling
For 30 years, The Standard has provided Group Dental insurance that helps minimize costs without sacrificing high-quality care. We offer flexible employer- and employee-paid plans that allow us to tailor coverage to balance affordability and quality care for your clients' employees.
Strong Nationwide Dental Network
We rely on the Ameritas dental network – one of the largest in the nation. By visiting a dentist in the network, where available, members can often reduce their out-of-pocket expenses for dental procedures.
Easy Plan Implementation
Plan implementation and enrollment is fast and simple. All your clients need to do is provide us with a census, file feed or enrollment form – and we'll do the rest. We can also provide complete COBRA administration to help alleviate administrative burdens.
Local Service Model
At The Standard, we believe that customer service is much more than a nice-to-have. That's why our representatives in our field offices throughout the nation are available to help your clients when they need it.
Performance Guarantee: For dental groups with more than 100 lives, we will refund 5 percent of the previous quarter's administrative expenses if we don't meet your clients' overall service expectations.
Flexible, Affordable Coverage
Dental plans from The Standard can be tailored to meet your clients' specific needs, helping them find the right balance of comprehensive coverage and affordability.
A Quick Summary Of Our Plans
Optima CareSM Dental Plan

Optima Care is a highly customizable traditional indemnity plan that offers the greatest choice of claim allowances, deductibles, coinsurance options and plan maximums.

Banner Dental CareSM Plan

Banner Dental Care is a comfortable, lower-cost alternative to Optima Care. It includes the most frequently used dental benefits.
Optional Plan Enhancements
Max BuilderSM

Insured individuals who use less than half of their annual maximum receive an increase in their maximum for the next benefit year, allowing them to save benefits to cover future procedures, potentially reducing out-of-pocket expenses.1

Max Builder FlexSM

This benefit works like Max Builder to reward insured individuals who visit the dentist yearly but use less than half of their annual maximum. Even better, with Max Builder Flex, those who qualify can build unlimited Dental benefits and enjoy annual increases in Vision2 benefits for contact lenses or frames, as well as one-time increases in benefits for orthodontia and LASIK AssistSM.

Max KeeperSM

With this option, preventative dental procedures (Type 1) do not count toward an insured individual's annual maximum benefit — saving the full benefit amount for services such as fillings, crowns, bridges, root canals and anesthesia.

High/Low CareSM

With High/Low Care, your clients can provide two plans in one policy. Employees choose the level of dental insurance they need, picking from two reimbursement levels and premium options.

Teeth Whitening Benefit

This benefit helps members put their best smile forward, providing coverage for

teeth whitening

every two years. Members can choose either in-office laser bleaching or a custom-made tray for applying a whitening gel at home.

LASIK AssistSM

Members receive a benefit, which increases over time, for laser vision correction procedures. The benefit provides a lifetime flat dollar amount per eye for employees and covered dependents age 18 and older.1
2 Requires enrollment in a Group Balanced Care VisionSM plan from The Standard and the number of insured individuals must match the Dental plan.
PolicyLinkSM Dental + Vision Plan
A Combined Plan Designed for Small Businesses
Small businesses face a constant struggle, balancing the pressures of running a business with the need to offer robust benefits in order to attract qualified employees. And as more and more small businesses are forced to make do with tighter budgets and fewer resources, many employers are relying on their brokers more than ever for creative solutions.
That's when you can refer them to our PolicyLink Dental + Vision Plan. It's a unique solution designed to help your small business customers get the most value from their investment.
Employers Can Design a Plan to Meet Specific Needs
Employers can choose one of The Standard's Dental plans3 and combine it with our cost-effective Balanced Care VisionSM Plan III. No matter which coverage is selected, our PolicyLink Dental + Vision Plan allows for a dollar amount between $400 to $3,000 to be set as the plan maximum.3

Employees Get the Freedom to Choose
Our PolicyLink Dental + Vision Plan gives employees a flexible approach to managing their care. If an employee doesn't require Vision care this year, he or she will have the full plan maximum available for Dental care.
In this depiction, both Vision and Dental care are drawn from the same $1,000 maximum example, so employees can choose to use their benefits wherever they're needed most.
The employer in this example has set a $150 maximum for Vision care. If the employee uses the entire $150 Vision maximum, he or she will have $850 remaining in the plan for Dental care.
However, if the employee chooses to use only $100 for Vision care, $900 will remain in the plan. Because the employee cannot exceed the $150 maximum for Vision care, he or she may either spend $50 on Vision, with $850 remaining for Dental care, or spend the entire $900 on Dental care.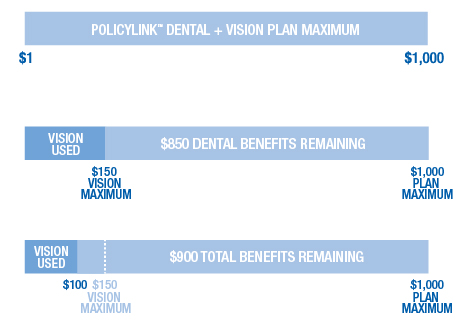 Let employees choose the coverage that's right for them, so they can take advantage of:
A combined annual maximum benefit, so employees can enjoy high-quality care without sacrificing flexibility.
The ability to choose a provider from one of the largest Dental networks in the industry, along with an unlimited choice of Vision providers.
Single-carrier coverage that results in faster claims processing and simpler statements.
Learn more about Balanced Care Vision Plan III.
Also see our PolicyLink Dental + Vision brochure.
3 Only certain Dental plans can be used for the PolicyLink Dental + Vision Plan. The Dental portion of this plan must have Type 1, 2 or 3 coverage without limitation (internal max) on Type 3 procedures. Enrollment in the plan requires enrolling in both products. This product is not available with Standard Select or in the state of Washington.
Enhance Your Offerings With Hybrid Dental CareSM
Hybrid Dental Care gives you the comprehensive services of traditional dental insurance — but at premium rates that can be as much as 55 percent less than our traditional plan rates.4 It's a good fit for employers of any size who want to offer their employees high quality dental services at cost-conscious rates.5
Key Features

Significant Savings: Rates as much as 55 percent less than our traditional plan rates, and higher savings when paired with an FSA or HSA.4

High Maximum: The plan's $3,000 annual maximum benefit is double the typical $1,500 maximum for traditional plans.6

Flexible Plans: Employers can offer this plan as a contributory or non-contributory plan.

Straightforward Terms: Hybrid Dental Care features a straightforward plan design that is easy to understand.

Expansive Network: This plan offers access to Ameritas' nationwide network of dental providers.

Out-of-Network Options: Employees can visit in-network or out-of-network dentists.
For more information about Hybrid Dental Care, contact your local Employee Benefits Sales and Service Office at 800.633.8575.
Also see our Hybrid Dental Care brochure.
4 This savings percentage is derived from a comparison of Hybrid Dental Care rates and The Standard's 100/80/50 plan.
5 Hybrid Dental Care is not available in New Mexico or Washington state. Hybrid Dental Care does not include orthodontia.
6 NADP 2015 Dental Benefits Report: Premium and Benefit Utilization Trends, January 2016