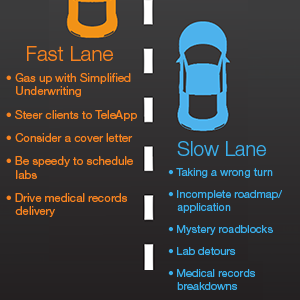 Help speed up the underwriting process and get policies delivered faster by staying in the driver's seat. Follow seven key steps to remain in the fast lane:
1. Screen to see if the application qualifies for The Standard's Simplified Underwriting program, which waives some lab and income documentation requirements. In general, clients are eligible through age 50, with total maximum benefits up to $6,000, as well as up to $4,000 for the Future Purchase Option Rider, if quoted. Qualifying for Simplified Underwriting also requires a completed TeleApplication (TeleApp). When a qualified application and TeleApp interview are received at The Standard, an underwriter will review the application and provide a case status or decision within 48 hours. See Discussion Topics for Your Disability Insurance Prospects.
2. Steer clients to a TeleApp telephone interview. Encourage them to set up the appointment quickly and to be prepared to supply their medical history. TeleApp interviewers are trained to get all the details needed for underwriting. Having your client talk to a neutral person over the phone also avoids any potential awkwardness or embarrassment you and your client might feel discussing personal medical information, especially if the client is a close friend or business associate. You'll find helpful tips in TeleApp Instructions for Producers and, for clients, What to Expect in Your Telephone Interview.
3. Explain complex situations up front. Provide background information for underwriting, if your client has a complex income stream, such as multiple businesses and duties, various income sources, a recent business purchase, new employment or a unique compensation arrangement. Write The Standard a letter explaining the situation and attach it to the application.
4. Schedule, complete and submit labs early. Encourage clients to keep moving forward to avoid roadblocks later.
5. Submit a complete application that includes required income documentation, such as personal and/or business tax returns, and all necessary authorizations and signatures. Review the Application Checklist.
6. Help accelerate the process of obtaining medical records by reminding clients to nudge their doctors' offices if needed and to follow up when providers have special forms. Going the extra mile can help you bypass detours.
7. Remember to use these tips and tools every time you begin and submit an application. You'll help speed your client's policy to the finish line. Now, start your engines!