Small businesses and large companies alike have discovered how individual disability insurance offered at the workplace makes their benefits package even more valuable to employees.
A Perfect Fit For You
Individual disability insurance (IDI) at the workplace is offered on a guarantee issue basis and gives you key advantages over other types of disability coverage. In addition to providing more income protection for you and your employees than LTD alone, guarantee issue insurance
has substantially discounted premium rates,
requires no medical history and
requires limited financial documentation.
Maximize Income Protection
By adding IDI to a group LTD plan, you and your employees can take home a much larger portion of pre-disability income.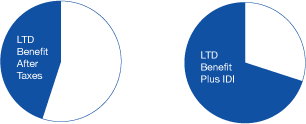 LTD benefits are usually taxable, so a typical LTD policy that covers 60 percent of income may actually replace about 45 percent of pre-tax earnings.1 When you combine LTD benefits with IDI, you can protect a substantially larger percentage of your income, including incentive compensation that may not be covered under your LTD policy.
Customize Your Policy
You can choose which benefits and options to include in the plan you make available to your employees. You can offer the protection of the base policy or customize the coverage to better suit the needs of your employees.
As the employer, you also have the option of offering your policy as an employee- or employer-paid benefit, or a combination of both.
Contact your insurance representative today for more information.
1 Assumes a 25 percent tax bracket.
Discounted Premium Rates
Guarantee issue policies are issued at discounted rates that are not otherwise available.
Employee Access To Coverage
Because we do not require medical underwriting and require only minimal financial documentation, employees who might not otherwise be eligible for this kind of income protection can have this insurance available to them.
Maximum Income Protection
The higher the income, the greater the disability benefit that may be available. Bonuses, distributions and other incentive income are covered. This is especially valuable for key executives.
Choice And Flexibility
You can choose whether to offer the protection of the base policy or custom coverage that better fits the needs of your employees. You can can also choose whether to offer coverage as a mandatory or voluntary benefit.
Please ask your insurance benefits representative whether Protector PlatinumSM GI or Protector+SM GI is available in your state.1
Included In A Protector PlatinumSM Guarantee Issue Policy
Total Disability Benefit

This provision pays benefits if you cannot work in your regular occupation because of a total disability, as defined by the policy.

Presumptive Total Disability Benefit

This benefit presumes you are eligible for the total disability benefit if an injury or illness results in loss of speech, hearing, sight or the use of two limbs, as defined by the policy.

Partial Disability Benefit

If you are partially disabled, we'll pay 100 percent of the basic monthly benefit for the first six months regardless of the income you earned while returning to work. Afterward, we pay a portion of the benefit based on the amount of income lost that month.

Rehabilitation Benefit

If you participate in a rehabilitation program to prepare for returning to full-time work, the rehabilitation benefit pays for part or all of the costs.

Recovery Benefit

After you recover from a disability, we pay recovery benefits if you continue to experience a loss of income due to the injury or sickness that caused the disability.

Survivor Benefit

This provision pays a survivor benefit for three months beyond the date of your death, if you die while disability or recovery benefits are payable.

Cosmetic or Transplant Surgery Benefit

This provision pays a monthly benefit if you are disabled more than six months after the policy's effective date from a sickness or injury caused by cosmetic or transplant surgery.

Waiver of Premium Benefit

This provision waives all premiums due under the policy while disability or recovery benefits are payable.
A limitation for Mental Disorder/Substance Abuse may apply if chosen by the employer.
Optional Riders
The employer may choose one or more of these riders with the plan.
Noncancelable Rider

This rider locks in premium rates as long as the premiums are paid by the end of each grace period.

Indexed Cost of Living Rider

With this rider, the monthly benefit will increase by up to 3 or 6 percent annually while you remain disabled, based on changes in the Consumer Price Index.

Catastrophic Disability Rider

This rider pays an additional monthly benefit if you suffer a catastrophic disability that prevents you from performing normal daily activities without assistance, as defined by the policy.

Own Occupation Rider

This rider changes the definition of disability so that you may be eligible for benefits if disabled in your regular occupation, but earning income from another occupation.
1 Not all benefits are available in all states.