Benefit Overview
Covered Leaves and Durations
Leave Type
Covered Leave
Maximum Leave Duration
Medical

Individual's own serious health condition that requires inpatient care in a hospital, hospice or residential medical care facility
Disabilities due to pregnancy
Situations that are life-threatening, involve a terminal prognosis or that require constant care

12 weeks
Family

Care and bond with a new child during the first year after birth, adoption or placement through foster care
Care for a family member with a serious health condition

12 weeks

2 additional weeks for pregnancy complication

Safe Leave

Individual or individual's dependent is a victim of domestic violence, harassment, sexual assault or stalking as defined in Oregon's Domestic Violence Law
Individual is seeking legal remedies, medical treatment, counseling or victim services, or relocating to take other steps to secure safety

12 weeks
Employees have the option of taking an added four weeks of unpaid leave.
Weekly Benefit Amount
Employees can receive 100% of their wages up to 65% of the state's average weekly wage (SAWW) for up to 12 weeks. The state's average weekly wage is recalculated annually.
| Employee Earnings | Benefit |
| --- | --- |
| ≤ 65% of SAWW | 100% of covered individual's average weekly wage |
| > 65% of SAWW | 65% of SAWW + 50% of the individual's average weekly wage over 65% of SAWW |
State Average Weekly Wage: $1,224.82 for July 1, 2022 through June 30, 2023
Minimum Benefit: 5% of the SAWW, which equals $61.24
Maximum Benefit: 120% of the SAWW, which equals $1,469.78
Waiting Period
The state has not adopted a waiting period. HB 2005 states that if a claim is approved, they shall make a reasonable effort to make the first benefit payment within two weeks of receiving the claim.
Intermittent Leaves
The state has not yet adopted rules for intermittent leaves.
All information on this page is subject to change as state requirements change.
Who's Covered
Covered Employees
Employees are eligible for Oregon's PFML if they've earned $1,000 or more with their employer in the previous four calendar quarters before taking leave.
Covered
Not Covered
May Opt In

Employees who earned $1,000 or more in the year prior to claiming the benefit

Independent contractors
Employees of tribal governments
Federal government employees

Self-employeed
Tribal governments
Covered Family Members
Oregon's PFML law uses one of the broadest definitions of "family member," which includes non-related individuals who have a close relationship with the covered employee.
Covered employees may take family leave to care for a:
Spouse or domestic partner
Child or the child's spouse or domestic partner
Parent or parent's spouse or domestic partner
Sibling or stepsibling or the sibling's or stepsibling's spouse or domestic partner
A grandparent or the grandparent's spouse or domestic partner
A grandchild or the grandchild's spouse or domestic partner
Anyone related by blood or affinity whose close association is the equivalent of a family relationship
How it Works
Plan Options
Employers can use the state PFML program or get state approval for a voluntary plan. Voluntary plans must provide benefits to the employees that are at least equal to the benefits of the state's PFML program.
The Standard can help you with providing a voluntary plan that will meet or exceed the state requirements. Learn more about our leave management services.
Funding
The employer and employee pay a total contribution amounting to 1% of the employee's earnings, up to a maximum of $1,329 per year.
Total Contribution is 1% of Employee Wages
40% paid by the employer1
60% paid by the employee
Employers with fewer than 25 employees are not required to contribute the employer portion of the premium. Employers of all sizes can choose to pay a portion or all of the premium on behalf of their employees.
Employer and Employee Contribution Example
Employee's gross earnings in the first four of the last five completed calendar quarters preceding the benefit year
$40,000
Contribution rate
1%
Employee's total premium for base year
$400
Employer's total annual contribution
(40% of employee's premium)
$160
Employee's total annual contribution
(60% of employee's premium)
$240
Additional Information Employers Need to Know
Almost all employers — except federal employers — who have at least one employee working in Oregon are subject to the Oregon PFML law.
The law runs concurrently with the federal Family and Medical Leave Act.
Employers must report wages and send contributions quarterly.
Oregon PFML Notification Requirements
Employers must give employees written notice of their right to:
Take leave under PFML
Receive job protections and benefits continuation
Appeal claims decisions
File a civil claim for a PFML violation
Have their health information remain confidential
Employers must also provide written notice about:
Claim filing procedures
Employees' notice obligations
Laws against retaliatory actions by the employer
More Information
Visit the Oregon Paid Family and Medical Leave Insurance page to learn more about Oregon's PFML.
If you'd like to see how we can help you comply with leave laws, check out our leave management services. We offer both absence management and benefits administration so you can focus your time where you need it most.
All information on this page is subject to change as state requirements change.
Legislative Activity
March 23, 2023
Oregon Paid Family Medical Leave (OR PFML) benefits are currently scheduled to be effective beginning September 3, 2023. This is eight months later than originally planned because in 2021 the governor's office and state lawmakers pushed the launch from January to September, 2023, due to pandemic related delays in building out the program.
November 28, 2022
Great news! The Standard's Oregon Paid Family Medical Leave product is the first in the industry to be approved by the Oregon Department of Business and Consumer Services. With this approval, The Standard is ready to support our clients with their equivalent plan application.
September 30, 2022
Paid Leave Oregon posted their Model Notice (Poster) on September 29, 2023. Along with providing this model notice, Paid Leave Oregon adjusted the posting requirement date to be no later than January 1, 2023. A copy of this notice can be found on Paid Leave Oregon's Resources Page and is available in 12 languages.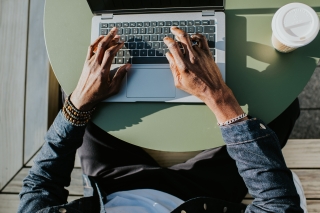 Calculate PFML Benefits
Use this calculator with your employees to help them get a quick estimate of their PFML benefit amounts.