How We're Investing in Technology and Our Digital Transformation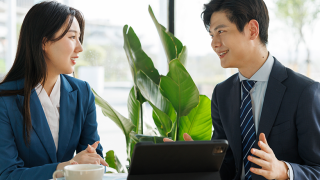 In our connected world, our customers need information at any time and from anywhere, and companies like ours need to maximize technology to deliver this connected experience.
Over the next five years, you'll see changes in the way we connect with and provide service to our customers. What's our goal? To combine our deep expertise and compassion with a seamless digital experience.
We're sharing the digital transformation plan that's guiding our progress. Here's what we're doing:
Enhanced Enrollment Experience
Through strategic partnerships, customers can enjoy a data-driven, automated medical underwriting and enrollment experience. We'll be utilizing several platforms to improve our customer enrollment experience:
Connected EOI: This evidence of insurability platform preloads employee information into applications using census data. The result is an easier process, quicker underwriting decisions and better communication with applicants. Connected EOI helps shorten the application process and often results in a much higher completion rate. And this reduces the administrative load for HR departments.
Nayya: Nayya's decision support platform provides employees with an intuitive yet powerful experience during open enrollment. Nayya's patented personalization and recommendation technology has proven to increase overall participation, sell more products, support migration outcomes and delight users.
Benefits administration: We are a strategic partner with several industry-leading systems that offer a customized approach to benefits administration. These partners can help strengthen data integration, optimize enrollment and reduce the burden on HR staff. We'll continue to deepen our relationships with these partners.
Data aggregators: Collaborations with key data aggregators will assist with data-feed team capacity, shorten customer implementation and provide new capabilities for our customers.
Strategic Partners
Employee Navigator
Ease
PlanSource
Empyrean
bswift
Benefitfocus
Corestream
Alight
Selerix
Digital Claims Experience
We're focusing on a more holistic claims experience for all our products and services. We're starting with Short Term Disability intake. As we modernize our systems, our next area of focus will be our Supplemental products. These include Hospital Indemnity, Critical Illness and Accident insurance.
Here's how we're making it easier to submit and manage a claim:
Offer a self-service way to immediately get your claim number, see your claims status, and upload and access documents
Proactively send notifications when an action is needed
Provide a clear view of what to expect throughout the process
We'll also streamline and automate simple STD and absence claims. This will make it quicker and easier to file and receive payments.
Employer and Employee Portals
A one-stop portal experience for employers and employees — that's our goal. We aim to meet expectations for a seamless, intuitive, customizable and convenient process — for all products and services. We'll do this by redesigning our portal over the next few years and adding these features:
Seamless login
Updated intuitive navigation
Enhanced reporting
Access to educational information and tools
We'll also examine customer interactions to make sure we introduce the right experiences at the right time.
Client Program Insights Reporting
We know that reporting is vital to helping our customers understand how their benefits are being utilized. We plan to reinvent our reporting capabilities by:
Providing efficient and consistent access to Life, Disability and Absence data
Building an employee benefits data hub to ensure reliable and consistent data
Expanding self-service capabilities for customers through a redesigned portal
Developing a platform with more robust reporting capabilities
Modernizing Our Systems
We'll continue to improve our systems to create innovative solutions and modernize our platforms. We'll set up a new policy administration system that will help us deliver a more personalized experience. This will include streamlined plan and billing administration, and better access to data. The journey will begin with our Supplemental products and expand to other products later.
This overview captures the start of our digital transformation. We're known for our deep expertise and compassion. Our intention is to couple that with a digital experience that will truly set us apart. But remember that throughout the transformation, we'll uphold our promise to our customers — to be there when they need us most.
---