Holiday Travel With Confidence — Travel Assistance Keeps Employees Protected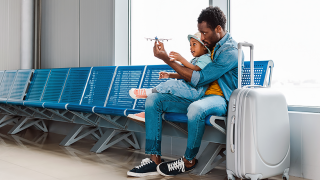 Whether for business or pleasure, traveling away from home doesn't always go smoothly. Passports get stolen or lost. Unforeseen events derail travel plans. Medical problems pop up at the worst times. Travel Assistance can help employees navigate these issues at any time of the day or night.*
Employees receive Travel Assistance with Life insurance from The Standard. This benefit also covers children up to age 25 who are traveling with their parents.
Travel Assistance is available when traveling more than 100 miles from home or internationally. It's also available for up to 180 days while traveling no matter what kind of trip it is — business or pleasure. It offers aid before and during your trip, including:
Travel visa, weather and currency exchange information
Health inoculation recommendations, country-specific details, and security and travel advisories
Credit card and passport replacement
Missing baggage assistance
Emergency cash coordination
Help replacing prescription medication or lost corrective lenses
Advancing funds for hospital admission
Repatriation of remains
Connection to medical care providers
Interpreter services
Local attorney services
Evacuation arrangements in the event of a disaster
A quick phone call activates services when needed. Travel Assistance is available around the clock, every day of the year and is available globally in every language. If something happens while travelling during the holidays, employees have Travel Assistance to help them out of a bind.
Contact your local sales or service representative to learn more about this service.
---