Helping Employees Fight Breast Cancer Using Holistic Support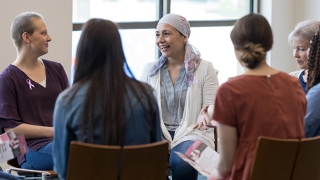 Getting a breast cancer diagnosis can be life altering. During Breast Cancer Awareness Month, we'd like to show you that by working with The Standard, you can help ensure that employees don't go through this alone. The Standard provides holistic support for employees who receive a cancer diagnosis. Here are some of the benefits we offer:
Cancer Screening
Early detection can improve survivability. Cancer screening benefits can help catch cancer issues and start treatment early on. For some cancers, such as breast cancer, screening can reveal a cancer in the early stages. When detected early and in the localized stage, the five-year relative survival rate is 100%.* The Standard offers cancer screening as part of our Supplemental insurance products.
Covering Out-of-Pocket Expenses
An employee might have medical insurance, but that doesn't mean all expenses are covered. Medical expenses, such as co-pays and deductibles, and living expenses like utilities, groceries and child care can add up. That's why The Standard offers insurance to help cover these additional costs.
Critical Illness insurance helps cover out-of-pocket expenses related to a serious illness.1 For a cancer diagnosis, The Standard will pay a benefit for a qualifying claim up to the insured's elected benefit amount. Diagnosis of non-invasive cancer, also called stage 0 disease or carcinoma in situ, The Standard would pay a 25% benefit of the insured's elected benefit amount. For a diagnosis of ductal carcinoma in situ, The Standard will pay the full cancer benefit up to the insured's elected benefit amount.
Group Hospital Indemnity insurance pays cash benefits to help with the unexpected costs that can come with a hospital stay.2
These payouts can help provide a buffer for loss of income and expenses during an extremely stressful period of life.
Patient Advocacy and Services
Personal Health Advocates help navigate the ins and outs of the healthcare system. Examples of how they can help include:
Finding doctors or specialists
Scheduling appointments
Explaining test results
Negotiating fees
Resolving billing and claims issues
Workplace PossibilitiesSM
Providing the right fit of disability benefits is crucial. Each employee's needs vary greatly based on their unique condition, treatment plan and other factors. Our Disability Benefits and Management consultants evaluate each situation before helping employees embark on a return-to-work plan. This plan might include:
Work schedules for treatments and appointments
Accommodations for physical and mobility needs
Mental health referrals to factor behavioral health into their recovery
Employee Assistance Programs
Battling breast cancer may be only one of the disruptions an employee is facing. A good Employee Assistance program can help ease other work and life challenges. The Standard partners with Health AdvocateTM to provide an Employee Assistance Program that offers services such as:
Personalized Legal Center with access to legal experts and information
Behavioral health support for depression, anxiety, substance abuse and other personal challenges
Financial Fitness Center with financial experts and resources
Mindfulness resources to help manage stress and improve focus
Support for divorce, grief and loss, and other life transitions
Assistance locating child care, elder care and special needs services
It's important to remember no two workplaces and no two employees are the same. But having the right benefits and resources in place can make a big difference toward recovery.
Subscribe to our Workplace Possibilities Blog for more insights about disability benefits.
---