The Challenge
The Missouri State Employees' Retirement System manages benefits for 48,000 government employees. Without a formal stay-at-work or return-to-work program, absenteeism and presenteeism were high. Adding to the problem is that members work at more than 100 agencies all around the state.
Taking a Proactive Approach
Exclusive research from Standard Insurance Company (The Standard) shows that organizations with formal stay-at-work and return-to-work programs see lower absenteeism, better employee retention, higher productivity and improved morale. Adding Workplace Possibilities℠ to MOSERS' long term disability program seemed like the perfect solution. The program's proactive approach helps keep employees at work by addressing and reducing the causes of disability before a claim is filed.
Employees Are More Productive and Happier
The Workplace Possibilities program has helped employees feel good about themselves and their work. After receiving accommodations, employees are more productive and happier at the workplace.
Chief Benefits Officer, Missouri State Employees' Retirement System
The Solution
The Standard and MOSERS partnered to help employees stay productive and engaged.
Innovation: Introduced Workplace Possibilities
Our proactive approach helps identify at-risk employees before they ever miss work.
Communication: Spread Awareness
We targeted HR reps, managers and employees directly at an annual benefits conference and through multiple communication channels.
Human Touch: Built Momentum in Person
A dedicated on-site consultant could recommend accommodations on the spot, and word soon spread about the value of the program.
Partnership: Unified Our Services
The Standard and MOSERS joined together to offer an innovative combination of services, including online ergonomic sessions and weight loss incentives.
403%
return on investment
91%
stay-at-work success rate after Workplace Possibilities
38%
decrease in LTD claims
Success Stories
* The names have been changed to protect the privacy of the individuals.
** These are costs incurred by The Standard. There was no cost to MOSERS because its long term disability plan includes a $25,000 Reasonable Accommodation Benefit.
Camille's Story: Pull Up a Chair*
About Camille: Camille, a disability examiner, was experiencing pain in her back, left hip and leg, and tail bone. She spent most of the workday sitting — in a chair that wasn't adjustable and lacked good lower back support.
Workplace Possibilities in action: An on-site disability consultant did an ergonomic assessment at Camille's desk. Her recommendation? An adjustable chair and a sit-stand desk.
Results: After using the new chair and desk, Camille reported less pain. She also said she was less likely to leave work during her shift because of pain.
Camille's reaction: "My outlook on my days has improved, knowing I have a chance to keep my pain in check before it gets out of control. This has also helped my mental state. I am extremely grateful for those accommodations."
How much it cost: $3,186.39**
Alex's Story: Go Hands-Free*
About Alex: Alex, a probation officer, was feeling tingling and pain down his left arm. The problem? He routinely cradled the phone on his shoulder so he could speak and type at the same time. Holding this awkward position for many hours of the day was causing the physical problems.
Workplace Possibilities in action: An on-site consultant saw how Alex was taking phone calls and immediately ordered a hands-free headset.
Results: Alex started using the headset and soon after felt less pain in his arm.
Alex's reaction: "It has been wonderful! No more tingling sensations or discomfort in my arm. I had no idea that a simple headset could make such a difference."
How much it cost: $168**
Ella's Story: Clear the Air*
About Ella: Ella, an office assistant, often felt sick because of fragrances in the office. The scents caused wheezing, coughing, shortness of breath and lightheadedness. Ella missed many days of work and even went to the emergency room several times for treatment.
Workplace Possibilities in action: An on-site disability consultant met with Ella to discuss solutions. He recommended moving her to a different area of the office and placing two HEPA filter air purifiers near her desk.
Results: The new location and the air purifiers helped to lessen Ella's discomfort and reduce her absences from work.
Ella's reaction: "I don't know who picked this machine, but it's a really good one."
How much it cost: $552.39**
Explore More Solutions
Explore the entire case study to see how a unique partnership helped Phoebe Putney achieve its vision for a program of benefits that drove wellness with incentives built into every product.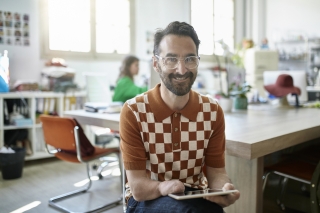 Our Workplace Possibilities program can help get employees back to work faster or help them stay on the job.
Partner With The Standard
Let's talk about how we can tailor a solution for you and your employees.