Give clients a product that matches their occupation and unique needs at the right price. They'll pay for only what they want and need. And when your clients have a claim, we'll be here to help.
What Makes Platinum Advantage Unique?
The Family Care Benefit helps clients take time away from work to care for a family member with a serious health condition.1 This benefit, exclusive to The Standard, provides a monthly benefit if an employee works at least 20 percent fewer hours and has an income loss of 20 percent or greater.
Key Features
Family Care Benefit
Regular Occupation Definition of Total Disability
Guaranteed Renewable Policy
Total Disability Benefit
Presumptive Disability Benefit
Flexibility You Can Use
Residual Disability
Provide your clients a benefit if they are residually disabled, rather than totally disabled, based on loss of income, duties and/or time. Platinum Advantage comes with three residual disability benefit options: Enhanced, Basic and Short-Term.2
Own Occupation
Offer coverage for highly specialized professionals who become disabled and are unable to perform the substantial and material duties of their regular occupation, even if they can work in another occupation for wage or profit.
Noncancelable
With the Noncancelable Policy Rider,3 premiums and policy provisions will be locked in for the duration of the policy. We won't cancel the policy, raise premium rates or reduce coverage as long as the premiums are paid on time.
Included With a Platinum Advantage Policy
Family Care Benefit1
Regular Occupation Definition of Disability5
Guaranteed Renewable Policy
Total Disability Benefit
Presumptive Disability Benefit
Rehabilitation Benefit
Survivor Benefit
Premium Waiver Benefit
Choice of Benefit Periods
Transplant Surgery Disability Benefit
Options
Residual Disability Rider (Enhanced, Basic or Short-Term)2
Benefit Increase Rider
Own Occupation Rider
Noncancelable Policy Rider3
Automatic Increase Benefit Rider
Catastrophic Disability Benefit Rider6
Indexed Cost of Living Benefit Rider
Student Loan Rider4
24-Month Mental Disorder/Substance Abuse Limitation7
The Family Care Benefit
Platinum Advantage income protection insurance includes our exclusive Family Care Benefit. Listen to real people talk about how they'd welcome the help if they had to care for a seriously sick or injured family member.
Consumer Brochure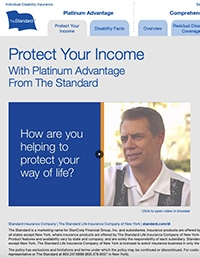 Interactive Platinum Advantage Consumer Brochure
Consumer Materials
Sales Resources
Interested in Reaching More Customers?
We've designed a versatile income protection product that works for a wide range of individuals.
Contact your General Agent to learn more about Platinum Advantage.