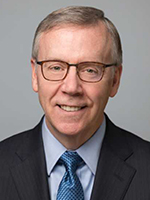 Greg Ness, Chairman,
President and CEO
Updated April 2020
As the scope, complexity and potential impact of the global coronavirus/COVID-19 outbreak evolves, The Standard continues to monitor the impacts of the virus closely and adjust our response appropriately.
The unique nature of this health crisis is creating significant volatility in the stock market alongside an unprecedented decline in interest rates. While the outcome remains uncertain, continued volatility — positive and negative — is likely. In the short term, supply chain disruptions and impacts to travel and tourism will lead to economic impacts.
The Standard has plans in place to help address concerns related to the spread of coronavirus/COVID-19. We are undertaking a variety of activities to protect our business operations, safeguard the health of our employees and continue meeting the needs of our customers. Our focus has not changed — we will provide the best possible experience for our customers.
Our company was founded in 1906 and our fiscally conservative management approach has helped us successfully navigate through significant volatility and weather unforeseen events to ensure we can keep our financial commitments. This commitment is built on the strength of our disciplined financial practices, sound investment strategies, unique mix of high-performing businesses, industry expertise and the stability of a long-term outlook.
Our balance sheet is the cornerstone of our financial strength and provides us with a foundation of resilience to manage through a wide range of economic cycles.
Standard Insurance Company
Financial Strength Ratings
| | | | |
| --- | --- | --- | --- |
| Standard & Poor's | A+ | (Strong) | 5th of 20 ratings |
| Moody's | A1 | (Good) | 5th of 21 ratings |
| A.M. Best | A | (Excellent) | 3rd of 13 ratings |
As of January 2020
The Standard Stands the Test of Time
In the July 2019 issue of Best's Review, Standard Insurance Company was recognized for maintaining an "A" rating or higher from A.M. Best Company since 1928. The Standard was honored to be among one of only 8 life/health insurers to consistently achieve an "A" rating or higher for more than 90 years. Given the rapidly evolving markets, changing customer needs and challenging economic times, this is a significant accomplishment. We are proud of this longstanding track record of financial strength.